Modi Vs Kejriwal on corruption – analysis of CMS ICS 2015 report
Modi Vs Kejriwal
Modi Vs Kejriwal is an ongoing war and probably good for India. A number of stories were published today in media based on the CMS ICS 2015 report. A lot of them had catchy headlines but lacked sufficient information to conclude the same. A few of them are quoted below.
Delhi CM Arvind Kejriwal attacking Modi citing rampant corruption in Delhi Police and counter attacks from BJP did raise a lot of heat in media. Delhi Commissioner B S Bassi dared the Delhi CM to prove that he is corrupt. Most of these stories were based on the data of 2015 report that gave figures for corruption perceived and experienced by the participants.
Every department is unique and the interdepartmental figures are a very crude indicator of performance of the government they are controlled by. Prime Minister Narendra Modi and Delhi CM Arvind Kejriwal have raised a lot of hopes among general public both of them taking over their respective charges in May 2014 and Feb 2015 respectively. Municipal corporation being ruled by BJP is the liability of PM Modi he being projected as the leader of party for each and every election by BJP. Now lets look at the general perception of participants on corruption in public service departments ruled by central, state and municipal governments ruled by BJP, AAP and BJP respectively. This should be a good Modi Vs Kejriwal comparison.
At a macro level there is not much difference. Around 20% feel that corruption is increased while 40% each feel that corruption is decreased or remained the same. Around 40% perceiving that corruption has decreased is a positive sign, best score being of state government (45%) and worst being of Municipal government (32%).
These are the figures for current perception. What is more important is too see how has the perception changed over last few years (before and after Modi and Kejriwal took charge). Even more important than this comparison would be figures of actual corruption experienced by people during this period in various departments.
CMS ICS has been conducting these surveys for years and the year-wise figures for perceived and experienced corruption are available for a few departments. Before looking at the actual graphs it would be important to note that the figure for perceived corruption indicates number of people who feel that the department is corrupt. While the figures for experienced corruption are for the actual number of people who either paid or were asked for bribe. The figures for perceived corruption can be read as the performance of respective government in changing the public perception while the figures for experienced corruption can be read as its efficiency in curbing corruption.
Police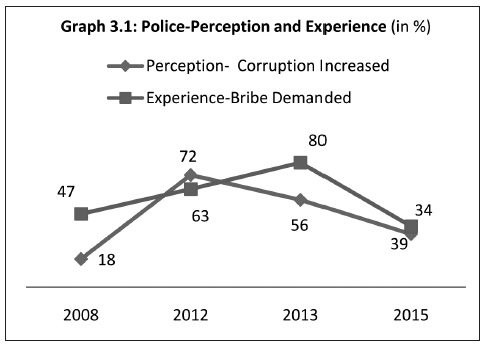 Going by this graph police had the best perception in 2008, worst in 2012 and much better than 2012 in 2015. From 2012 to 2015 police has improved a lot on the perception in general public that its a corrupt department. There is also a similar trend in the experienced corruption. From 2008 to 2013 there has been a steep rise in corruption experienced in police by general public and the dip between 2013 to 2015. Moreover there is a narrowing the the gap between 2 graphs suggesting that the figures of perceived corruption are close to actual corruption experienced by people.
PDS Services
The figures for both perceived and experienced corruption in PDS were again worst in 2012 and there is steady improvement over years. There is a significant improvement in the experienced corruption where the figures have dropped from 54% to 6%.
Electricity Services
Experienced corruption was worst in Electricity services too in 2012 and there has been a significant improvement the figures dropping from 23% to 2%. Despite a significant drop in experienced corruption, the number of people perceiving corruption has been steadily rising from 2008 till date.
Hospital Services
In hospital services though the experienced corruption remained steady between 2008 to 2013 there is again a significant drop in 2015. Ironically the perceived corruption has increased on the other hand.
Water Supply Services
The similar trend is seen in water supply. Though the number of people actually experiencing corruption has dropped there is a rise in number of people perceiving corruption.
School And Education Services
The school and education services has shown a rise in both perceived and experienced corruption.
Sanitation and Garbage Disposal Services
In sanitation and waste disposal services though there is a marginal drop in perceived corruption the number of people experiencing corruption has dropped significantly.
Summary
The department of police controlled by central government has been successful in not only changing the perception of people but also in controlling corrupt practices to some extent.
All the departments controlled by state government except school and education have been able to significantly curb the corrupt practices but failed in improving the general perception among people.
Sanitation department controlled by municipal government has also been successful to control corruption significantly though there has not been much improvement in perception.
Any level of corruption above zero percent is not something to be celebrate but signals are positive. Overall this report seems positive for central, state and municipal government in terms of controlling corruption compared to the period before Modi and Kejriwal took charge.
Note –
The composition of samples has not been same. 2015 sample had an equal representation of various socioeconomic strata. But 2012 sample comprised of slum dwellers alone while 2013 survey was done exclusively among women participants.
Comparitive data is available for only one department each controlled by central and municipal governemnts though for most departments under state govt control.
The CMS ICS 2015 report can be downloaded from here.